Affiliate Disclosure: Cannabis Vape Reviews is supported by readers like you. We may earn commissions for purchases made through our links. Learn More
Puffco Plus vs. Dr. Dabber Stella
If you're a fan of cannabis waxes and concentrates, you know how important it is to have a good vape pen.
You want one that's easy to clean, easy to use, and easy to control. You want reliable temperature settings, and a long-lasting battery.
If you can find all those things, you're looking at a solid vape pen.
We're about to compare the Plus and Stella, two of the highest end vape pens made by standouts in the cannabis concentrate vape space – Puffco and Dr. Dabber.
How do these two pens compare, and which one is the right choice for you?
Let's take a closer look, and see how they stack up!
Overall Design
The Puffco Plus is a slim vape pen that's easy to use and carry. Perhaps its most useful feature is the built-in dab tool for putting your concentrates on the heating element. This is hardly a unique feature, but the tool is well designed, and waxes and other concentrates will easily slip off the tip. It also stores neatly, which is always a plus.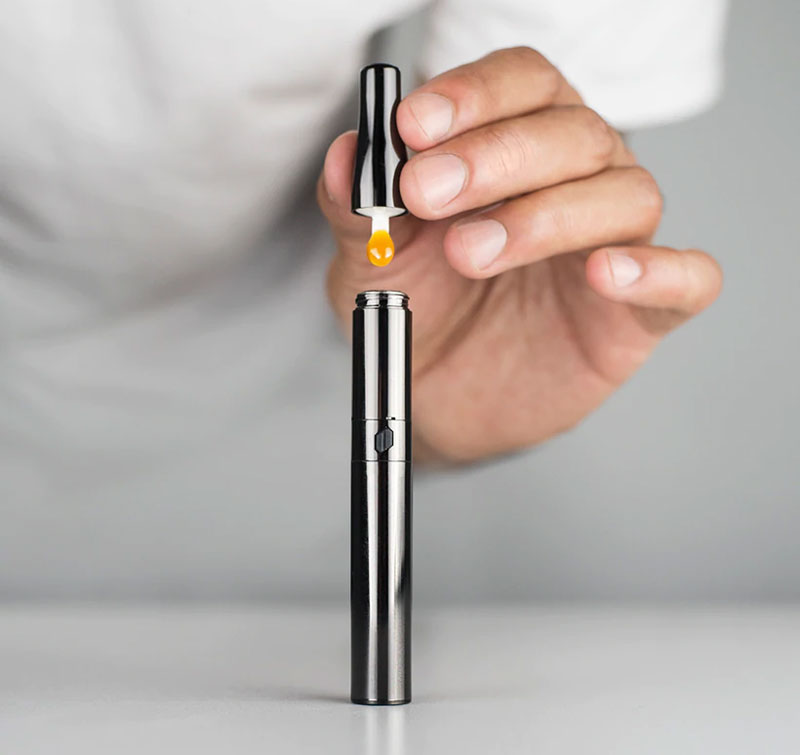 In addition, the Puffco Plus has a quick-heating function that Puffco calls "Sesh-mode." In Sesh-mode, the element will heat up for 12 seconds, then automatically shut off. This makes it easy to take a quick dab without going through an elaborate ritual.
The Dr. Dabber Stella is a somewhat beefier pen. It sports a light-up logo that lets you know when the vape is active, and it has a tough stainless steel housing that can stand up to a lot of abuse. It also sports a magnetic mouthpiece, which is easy to snap on and off.
Bottom line: The Puffco Plus is a slim pen that's designed for convenience, easy loading, and quick heating. The Dr. Dabber Stella doesn't have as many quality of life features, but it's extremely durable, especially for the price range.
Ease of Use
So, how do you use these vapes?
Using the Puffco Plus
As we discussed, the Puffco Plus comes with its own dab tool. This tool is a small white object that's stored under the mouthpiece.
Once you've loaded your concentrate, you'll have a couple of different operating options. If all you want is a quick puff, you can always use the Sesh-mode. But if you want to get the most out of the Puffco Plus, you'll want to be able to control the temperature and your session length.
To do that, press the one-button control and hold it until the light turns on. At that point, it will take just a few seconds for the heating element to come up to temperature.
The user's manual is a bit opaque, but you can actually choose between three power settings by tapping the power button four times. The light will shine green for the lowest setting, blue for the medium setting, and white for the highest setting.
Using the Dr. Dabber Stella
To use the Dr. Dabber Stella, pop off the mouthpiece and use your dab tool to fill the chamber. You'll have to use your own tool, but they're cheap and easy to find.
Pressing the power button five times will turn the heating element on and off. Tapping it three times will cycle through three different temperature modes.
As with the Puffco Plus, the light will change color depending on the setting, although the top setting is orange instead of white.
You can also activate a 15-second single-puff cycle by tapping the button twice.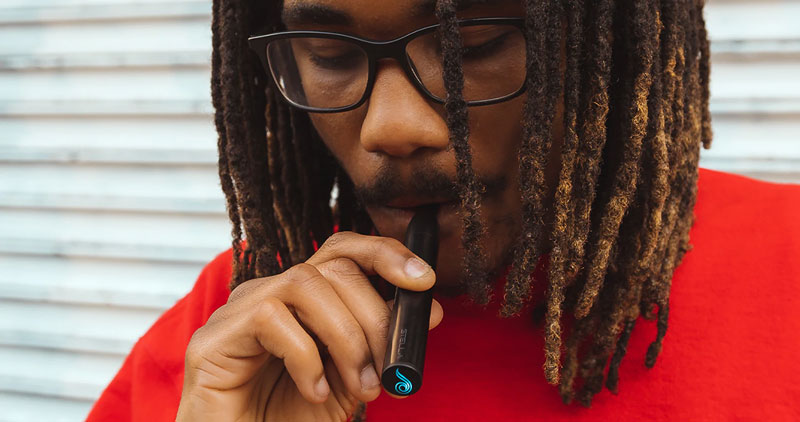 Bottom line: Both vape pens have similar functions and modes of operation. That said, the Puffco Plus' built-in dabbing tool gives it a slight edge.
Temperature Settings and Vapor Quality
Puffco Plus Vapor Quality
Ultimately, the most important feature of any vape pen is the quality of the vapor. A lot of this comes down to temperature control.
Oils and soft waxes require a lower temperature, while hard concentrates like shatter require a higher temperature.
Unfortunately, the Puffco Plus doesn't publish the exact heating element temperature settings, which could be frustrating for connoisseurs.
That said, it heats up very quickly, and you get rich, thick vapor clouds. Then again, the vapor intensity tends to fall off when you near the end of your battery life.
Dr. Dabber Stella Vapor Quality
The Dr. Dabber Stella's temperature settings are 550 degrees, 630 degrees, and 775 degrees. This runs a tad hot, but if you want a cooler puff, the 15-second mode only heats up to 460 degrees. This is great for concentrates that require a lower heat setting.
Moreover, the battery and power system are designed not to lose voltage as the battery runs down. This leaves you with a consistent temperature right down to the last puff.
This vape pen also has a cyclonic air flow system. Air comes through the chamber and swirls around, providing a rich, strong draw with a potent vapor cloud.
Just be careful; on higher temperature settings, the mouthpiece can get hot. To remedy this and provide tastier vapor Dr. Dabber does offer a premium Stella Glass Mouthpiece add-on which can be purchased separately.
Bottom line: Both of these vapes provide good vapor quality. However, the Stella has the edge for a couple of reasons. For one thing, you know the exact temperature you're dabbing at. For another, the cyclonic air flow system gives you a thicker vapor cloud.
Battery Performance
Puffco Plus Battery
The Puffco Plus has a 520mAh battery, which is a bit smaller than you'll find on most modern vape pens. On the other hand, the design is very slim, so it's not as if there's a ton of space for a large, high-capacity battery. Besides which, you can get a full charge in only 45 minutes, which is a lot faster than you can charge a big battery.
Dr. Dabber Stella Battery
The Dr. Dabber Stella sports a larger, 600mAh battery. That's more than 15% bigger than the Puffco's, so you can get dozens of puffs before you have to recharge. The battery takes a bit longer to charge, but that's not a major concern. This vape is equipped with pass-through charging allowing it to be used even when it's plugged in so you can take a dab any time you like.

Slim vape pen that's easy to use and carry. Quickly heats up and features a built-in dab tool for placing wax on the heating element.
Discount with code at ToTheCloudVaporStore.com

Larger wax vape pen with multiple temp settings and quality airflow.
Discount with code at ToTheCloudVaporStore.com
Bottom line: With a larger battery and the ability to dab while charging, the Stella has a significant edge in this category.
Vape Pens are pretty straightforward in nature and they run the gambit when talking about price.
In theory, you can vape a 510 cart all the same with a $10 gas station battery as you can with something pricier like the Dr. Dabber Ghost.
A lot of what you are paying for with the higher end pens like the Puffco Plus and Dr. Dabber Stella is the durability and quality, not to mention the ability for vaping your own extracts on top of vape cartridges.
The $10 battery pen will certainly die after a few sessions whereas the higher end Stella and Plus can last you years if well maintained.
Check out more vaporizer comparison reviews here.
About the guest author: Tyler is the owner and operator of To the Cloud Vapor Store, one of the largest retailers of curated used and new vaporizers.